My facebook friends will have already seen this post as I wrote about it last week, but I felt compelled to blog about this wonderful but sad book for other people interested in illustration, who haven't read this book.
Last week I bought a beautiful picture book called
Harry and Hopper
by Margaret Wild and illustrated by Freya Blackwood
which won the Kate Greenaway medal 2010. The text is moving and beautifully written and the gorgeous illustrations are very touching. It tells of a little boy, Harry, and his dog Hopper, so named because 'he was as jumpy as a grasshopper.' The story deals with death and the loss of a beloved pet and how Harry comes to terms with it. It is very moving and, I'm afraid to say, I blubbed at the end (well, I actually sniffled my way through most of the book). Freya Blackwood's charcoal and watercolour illustrations have a sketchy, loose feel to them, full of life and movement that suggests Hopper's playfulness, and the darker colours express the sadness Harry feels when he loses Hopper.
Please read
Inside the world of Kate Greenaway winner Freya Blackwood/books/Guardian.co.uk
for more information and to view some of the lovely illustrations. Also,
Sarah McIntyre's
interview with Freya is an interesting insight into her techniques and illustration process :)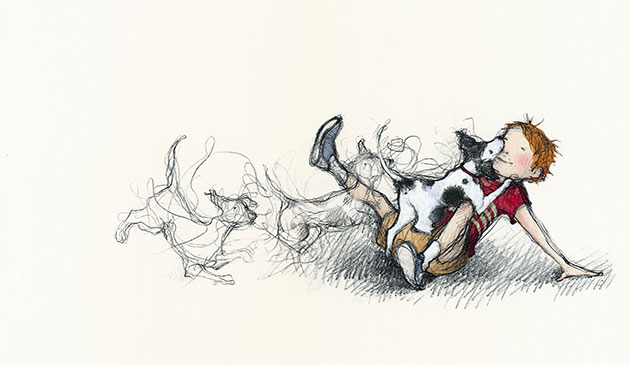 illustration: © 2009 Freya Blackwood